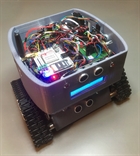 R O B O T S

SEVI

Guardian

The Raw Brain


O L D O N E S

TCB 20

STAFU









WELCOME TO THE HOMEPAGE OF ROBOLAB

Robolab.fi is a small Finnish innovative workshop, which specializes in the design and construction of robots. I design and build robots, as well as publish free building instructions.

Manufacture of robots used for 3D modeling and printing, a variety of microcontrollers and electronics, as well as the production of printed circuit boards (PCB). I also make a robot program development.

Here you will find some interesting robots and building instructions.

See Guardian robot demonstration and building instructions. The Guardian is a small guard robot that lets you see what's happening at home. The robot is controlled using text messages.